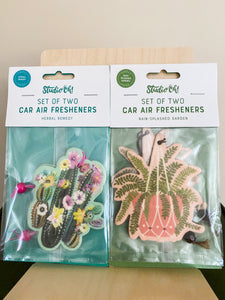 Studio Oh! Car Air Fresheners
Desert Blooms: Herbal Remedy: A refreshing, aromatic blend of cool eucalyptus lifted by therapeutic touches of white rosemary, crushed mint leaf, and invigorating spearmint.
Hanging Fern: Rain-Splashed Garden: The purifying essence of aquatic blooms, blushed peony, and white jasmine swirled with cool breezes infused with crisp apple and luscious peach nectar.