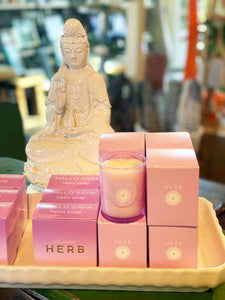 Icelandic Herb Soap and Candle Set
Includes 1 Icelandic Angelica Herb Soap and 1 Icelandic Angelica Herb Candle.
Icelandic Angelica Herb Soap:
Hydrate and heal with HALLÓ SÁPA's Icelandic Angelica Herb Soap. Made with Iceland's "Super-Herb" Angelica, and sustainably sourced ingredients from the USA, including palm and coconut oils, this soap is a natural beauty. Its fresh and light scent will relax you while its soft hint of citrus will reinvigorate you.
Rainforest Alliance Certified
Sustainably Sourced
Halló Sápa means Hello Soap in Icelandic. Crafted in the United States from old Swedish soap making recipes, HALLÓ SÁPA is produced with traditional ingredients found in Icelandic arctic regions.
Icelandic Angelica Herb Candle:
The Angelica Herb Candle will transform your space and invite a sense of enlightenment and healing with an aromatic medley of matcha tea, lemon, bergamot and eucalyptus oils.


Clean 20-hour burn time.
100% pure soy wax.
3 oz.