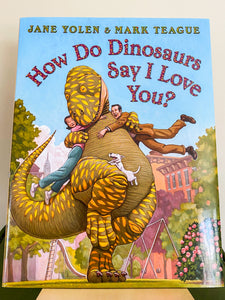 How Do Dinosaurs Say I Love You?
Cuddle up and share this feel-good book from the creators of How Do Dinosaurs Say Good Night?
How do dinosaurs say I love you?

Little dinosaurs sometimes misbehave or make a mess, but no matter what they do, their moms and dads always love them. With warmth and irresistible humor, award-winners Jane Yolen and Mark Teague present readers with a familiar range of naughty childhood antics followed by dinosaur-sized kisses, hugs and those three precious words that can never be said too often: I Love You!