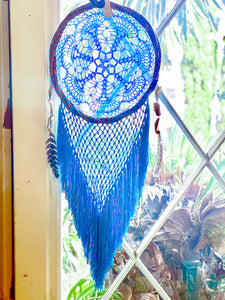 Blue Lace Dream Catcher
Hand crocheted in the jungles of the Yucatán, these catchers of dreams illuminate the artisanal spirit of the ancient Americas through their unique style and designs. With the collection of local seashells and ocellated turkey feathers, these intricate vintage throwbacks bring together sweet whimsy and elegant craftsmanship.
For best results: Hang above the bed.  Negative dreams will become entangled in the web of the catcher's eye while the sweet ones slip down the collected items that dangle onto the intended beloved below.